Personal Support Worker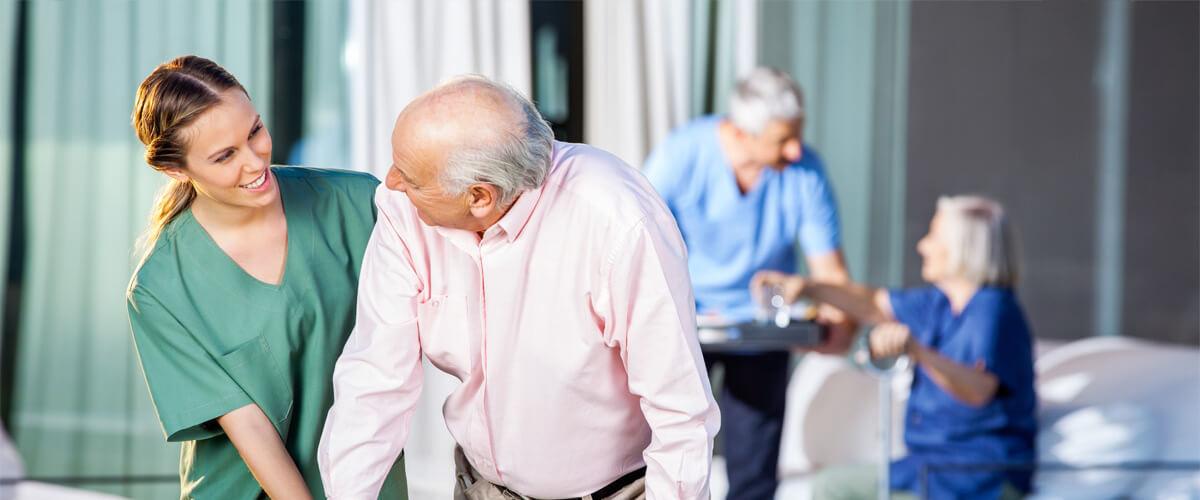 About
Personal support workers are a vital part of the healthcare system in Canada. In this program, you will learn how to improve the quality of life of your patients, including assisting with their physical, emotional, and mental well-being.
The conference board of Canada is reporting that 21.3% of health care workers will be eligible for retirement by 2026. The DEMAND to replace these workers will only grow.
You will also learn how to assist clients with personal hygiene, mobility needs, getting proper nutrition, creating a care plan, helping with medications and cognitive issues, as well as identifying and reporting elder abuse. You'll also receive your Standard First Aid Certificate and CPR Certificate before going out on your practicum.
Hands-on Healthcare Training
The Personal Support Worker program gives you focused, relevant training to help you excel in various care environments. If you need flexibility, part-time and evening study may be available at our Mississauga, North York, and Scarborough campuses.
The final stage of the program includes two practicum placements, totalling 310 hours over eight weeks, with one at a community organization, and the second at a care facility. These work placements ensure you'll be job-ready and prepared to move into your new career as a personal support worker.
Benefits of this program
Small class sizes
Practicum placements provide real-world experience
Career Services department provides assistance finding jobs and building resumes
Admission
Academic Requirements:
A passing score on the NACC Technical Literacy Exam OR
IELTS – International English Language Testing System – Minimum average score of 6.0 with no subject test score lower than 5.5 OR
TOEFL – Test of English as a Foreign Langauge Internet based test (iBT) – overall 80, with the minimum in each component: Reading 20; Listening 20; Speaking 20; Writing 20
Signed Vulnerable Sector Disclaimer upon enrollment
Signed Medical Disclaimer upon enrollment
Career Opportunities
Long-Term Care Facilities
Home Health Care Agencies
Retirement Homes/Residences
Hospices
Group Homes
Adult and Child Daycare Centres
Industry Salary Information
Low Wage ($/hr): $14.00
Average Wage ($/hr): $16.50
High Wage ($/hr): $24.00
Average Salary: $34,320
* Information Source: www.jobbank.gc.ca/trend-analysis. Salary data provided is an estimate, and is intended for reference purposes only.
Financial Aid
Finding yourself in a position where College is unaffordable is more common than most of us realize. Fortunately, Canada's provincial and federal governments are very focused on making education accessible to virtually everyone; even students that are new to Canada. Regardless of your situation: didn't finish high school, are having (or had) financial difficulties, or you are a new arrival to Canada, we will find financial solution best for you!
Our Financial Aid Expert will provide you with best options to make education investment in yourself, both realistic and affordable. Let us help you find option that suits you best. Fill out the form NOW!
Second Careers Program

The Second Career strategy launched by the Ontario Ministry of Training, pays for the training or education needed by Ontarians to get a better job. This program provides financial help of up to $28,000 put towards : tuition, books, living allowance, child care, disability support.

Ontario Student Assistance Program (OSAP)

Ontario Student Assistance Program (OSAP) is a program available to people living in the Province of Ontario. This is a financial aid program that can help you pay for college or university. OSAP offers funding through: grants: money you don't have to pay back, student loans: money you need to repay once you're done school. Find out more about this amazing program. Fill out the form NOW!

Payment Plan

A simple plan may be available that spreads out the costs of your education monthly over the duration of your study period. For students who qualify, a monthly payment plan may be extended beyond the end of your study period. Bad credit and no established credit can often be overcome. We specialize in working with students that have had credit and financial challenges in the past.

Registered Plans:

Lifelong Learning Plan

The Lifelong Leaning Plan (LLP) allows you to withdraw money from your RRSPs to finance your education or that of your spouse or common law partner. You can withdraw up to $10,000 per year, up to a total maximum of $20,000.

Registered Education Savings Plans (RESP)

Students who have been named under a family's Registered Education Savings Plan may use funds from an RESP to cover the costs of education at an eligible post-secondary institution. Complete our form above for more details.

Workplace Safety and Insurance Board (WSIB)

If you are a WSIB recipient or a surviving spouse, WSIB may have funding resources for work force re-entry. Contact your case worker about re-training, this will help you to get back into the work force through re-training.
Brampton
101 – 2 County Court Blvd.
Brampton, ON L6W 3W8
North York
33 - 4950 Yonge St.
North York, ON M2N 6K1
Scarborough
205 – 2206 Eglinton Ave. E
Scarborough, ON M1L 4S8
Mississauga
280 – 33 City Centre Dr.
Mississauga, ON L5B 2N5